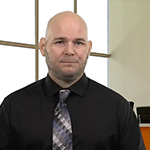 David Biggers
IT Instructor
David has been a professional IT instructor for the past four years for the US Army. He teaches a broad range of certification courses ranging from CompTIA, Microsoft to Cisco and EC-Council. Prior to working with the US Army, David worked as a Jr. Network Admin and Web Services Manager with KCTCS in Kentucky. He performed multiple jobs being on the IT team. Additionally, David taught part-time during the evening at the college, where he instructed on Active Directory, Introduction to Computers, and Networking. David has 18 years of IT experience, 17 professional IT certifications, and 8 years of teaching experience.
With the Master ITU CompTIA training series, become a Certified IT Professional. Get 12 Courses for One Low Price – Limited Time Offer!
Get all 12 CompTIA courses for one low price in this comprehensive training series. Our CompTIA certification training courses are comprehensive, providing IT professionals with 12 courses that feature the Core Series for A+ certification as well as introducing our innovative IT Fundamentals (ITF+) course! Furthermore, we have PenTest+, Security+, Cloud+ and Network+. For those seeking to become an expert in IT certifications – this is the training product for you!