Master CompTIA Certification Training – 12 CompTIA Courses
Take an extra 30% off this course! No coupon needed; auto applies in cart.
Our CompTIA certification training courses are comprehensive, providing IT professionals with 12 courses that feature the Core Series for A+ certification as well as introducing our innovative IT Fundamentals (ITF+) course! Furthermore, we have PenTest+, Security+, Cloud+ and Network+. For those seeking to become an expert in IT certifications – this is the training product for you!
A Collection of CompTIA Certification Training to Ensure You Pass the CompTIA certification Exams
Our CompTIA courses are designed to prepare you and give you the knowledge for CompTIA vendor-neutral IT certifications and contains 12 courses created around the CompTIA curriculum. ITU's online courses range from essential technical skills, penetration testing, and core security functions for mobile devices critical for hands-on skills!
These CompTIA courses are perfect for you if you're searching for a job in the IT sector. Our online training courses are suited for everyone, from entry-level IT jobs to network administrators! Our classes will give you the tools you need to be successful and is an incredible offer that shouldn't be passed up. Don't delay – sign up today for ITU's CompTIA certification training series!
This video series instructor-led training contains the following high-value CompTIA courses sought after for professional certifications and will prepare you for each exam objectives:
This CompTIA certification training series contains extensive content that will prepare you for some of the most popular and advanced certifications in the world. It's a great way for anyone who wants to work in technology to start their career or for current IT Technician to enhance their skills and unleash additional career opportunities.
What's Included in the CompTIA Certification Training
This series includes all the instructional training materials for each course , including:
12 Comprehensive CompTIA Courses covering all the most popular CompTIA certifications
Pre-Recorded Instructor Led Videos
Study Guides of all Instructional Slides
Flash Cards
Games
Practice Exam Questions/Test and practice tests
You can take each CompTIA course at your own pace, study anytime, anywhere, and get prepared to take your certification exams quickly. The bundle also comes with 1 year access to our online learning platform where you can learn from any device, 24/7.
More Information About CompTIA Certification
CompTIA (Computing Technology Industry Association) is a non-profit trade association that provides certification and training for individuals working in the information technology (IT) industry. CompTIA offers a variety of training and certification programs designed to help IT professionals develop their knowledge and skills in specific areas of the industry. These programs are designed to be vendor-neutral, meaning they are not tied to any specific technology or product. After taking our CompTIA courses, students are well prepared to sit to various CompTIA certification exams and are well prepared to enter or excel in their career paths in the exciting field of information technology.
Some examples of where our CompTIA certification training programs will benefit you are:
CompTIA A+: This CompTIA course is designed to certify IT professionals in the areas of hardware and software installation, maintenance, and troubleshooting. CompTIA A+ certified IT professionals are skilled problem solvers, equipped with the knowledge and skills to support current core technologies such as security, networking, virtualization and more. With this invaluable certification at hand, you can easily transition your career into today's digital age.
CompTIA Network+: This program is designed to certify IT professionals in the areas of networking technologies and infrastructure. CompTIA Network+ is a comprehensive program that equips individuals with the skills to configure, manage and troubleshoot both wired and wireless network devices. Not only does it cover fundamental topics like critical security concepts and cloud computing best practices, but also dives into more advanced areas such as virtualization techniques, new hardware technologies and service models – all of which are essential in ensuring an efficient yet resilient network infrastructure.
CompTIA Security+: This program is designed to certify IT professionals in the areas of network security and cybersecurity. This is one of our most popular CompTIA courses. Passing the Security+ exam ensures that you possess the requisite expertise and confidence to evaluate a company's security stance, suggest suitable safety procedures, administer hybrid infrastructures with vigilance and aptitude, recognize pertinent laws and regulations in place, detect any abnormal activity accurately as well as react to it promptly.
CompTIA Cloud+: This program is designed to certify IT professionals in the areas of cloud computing technologies and infrastructure. With CompTIA Cloud+, you can rest assured that your skillset meets the global standard of security, scalability and reliability. This certification validates your proficiency in designing, managing and operating cloud infrastructures to ensure maximum business continuity with uninterrupted access to data and systems. This IT Course ensures cloud infrastructure services are viewed within a comprehensive setting, regardless of platform. Transitioning to the cloud enables you to maximize, secure and manage essential applications and data storage solutions. To ensure that these valuable resources are well-protected, CompTIA Cloud+ certification is a necessity as it ensures one has acquired all of the necessary technical skills for doing so.
CompTIA certifications are widely recognized and respected in the IT industry. They can help individuals to build their skills and knowledge in specific areas of the field, and can also serve as a valuable credential when seeking employment or advancement in the IT industry.
Find out more out CompTIA certifications by visiting the CompTIA website.
Your Training Instructors
Chrys is an education and technology expert who specializes in enterprise-level IT infrastructure consulting and certified training-of-trainers. In her career, she has garnered 35 IT Certifications including Cisco CCSI/CCNP, CISSP, CISA, MCSE/MCITP, and many more. She has also authored 40 published certification textbooks and is currently working on the new CompTIA PenTest+ courseware.
David has been a professional IT instructor for the past four years for the US Army. He teaches a broad range of certification courses ranging from CompTIA, Microsoft to Cisco and EC-Council. Prior to working with the US Army, David worked as a Jr. Network Admin and Web Services Manager with KCTCS in Kentucky. He performed multiple jobs being on the IT team. Additionally, David taught part-time during the evening at the college, where he instructed on Active Directory, Introduction to Computers, and Networking. David has 18 years of IT experience, 17 professional IT certifications, and 8 years of teaching experience.
Chris is a Sr. Cisco Instructor and leading consultant for clients throughout the U.S. Chris has over 15 years' experience as a network engineer and 5 additional years as an instructor. Chris has worked at the service provider/partner level throughout his career, working with national and global clients to solve complex business problems through the use of technology and IT training solutions. Working with Chris, you will see a true industry expert with experience, drive, and patience unparalleled in the industry.
Dawn Briggs is an information technology professional with more than 20 years of experience in directing IT departments, leading technical implementations, managing personnel, ensuring the security of information, and establishing high customer service standards. Although she has a broad range of experience across the IT industry that includes everything from pc repair to database management, her career has primarily focused on training technical personnel to plan, implement, and maintain IT infrastructure and web-based technologies. Dawn has been instructing students in IT courses, and mentoring students in skills that allow them to obtain jobs in information technology career fields, for over seven years.
John is a Senior Technical Instructor at Ft. Gordon in Augusta, Georgia, instructing U.S. military and civilian employees on a number of cybersecurity subjects and certifications. He has been an IT professional for well over two decades, as prior to his current job he retired from the Army after a 20-year career as a soldier in the signal branch (IT and communications). John holds a bachelor's degree in Computer Science from the University of Maryland Global Campus as well as the following IT certifications: Network+, Security+, Cybersecurity Analyst (CySA+), CompTIA Advanced Security Practitioner (CASP+), Certified Information Systems Security Professional (CISSP).
Frank has over 35 years of IT experience after graduating with honors with a B.S. in Computer Science from the University of Southern Mississippi. After a software development position with Shell Oil, he has worked in IT training and workforce development for over 30 years. Frank has worked with UNIX and Linux operating systems since the 1990s and has taught over 1000 training events during this time. He is also a course author and subject matter expert for the creation of multiple UNIX and Linux classes from the introductory level through advanced system administration. He has taught the exam preparation course for the CompTIA Linux+ exam and currently holds the Linux+ certification.
Professor Brian O'Hare has over 25 years of experience in the IT industry. He started off in web design as a Corporate Webmaster but wanted to understand how the internet worked. While working towards his bachelor's in computer science, he studied and got his MCSE (Microsoft Certified Systems Engineer) and his MCT (Microsoft Certified Trainer). Once certified he paid for his degree working as a Network Engineer and then a Trainer for others wanting to learn about Microsoft's Desktop and Server products.
Anton Santucci is a seasoned IT instructor with over 20 years of experience in the field. He is currently serving as an ITU instructor for the A+ Certification Course and teaching both online and in-person computer training at Hillsborough Community College (HCC) in Florida. Anton holds an Associate's Degree in Information Systems Management and is skilled in delivering complex IT information to students in a way that is easy to understand and enjoy.
He started his career as a Microsoft Certified Trainer (MCT) and has since gained expertise in CompTIA certifications such as A+, Net+, and Security+. He also holds the CEH (Certified Ethical Hacker) certification. With five years as a Network Administrator for a career college in Florida and global experience as a corporate trainer, Anton brings a wealth of knowledge and experience to his classes.
With a belief that training can be both informative and entertaining, Anton uses humor, mnemonic devices, and questions to engage his students and ensure they retain the skills they need to succeed in the workplace. In his personal life, Anton is a passionate traveler and a fan of the Giants. He looks forward to helping you achieve your certification goals while getting to know you along the way.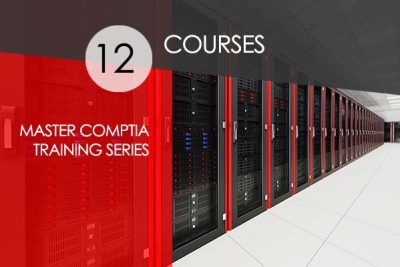 Master CompTIA Certification Training – 12 CompTIA Courses
Our CompTIA certification training courses are comprehensive, providing IT professionals with 12 courses that feature the Core Series for A+ certification as well as introducing our innovative IT Fundamentals (ITF+) course! Furthermore, we have PenTest+, Security+, Cloud+ and Network+. For those seeking to become an expert in IT certifications – this is the training product for you!
Additional Options to Access This Training This training is also part of our extensive training library containing over 225 courses, 12,000+ videos and over 19,000 practice test questions.