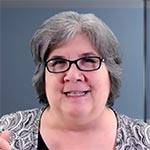 Chrys Thorsen
Education and Technology Expert
Chrys is an education and technology expert who specializes in enterprise-level IT infrastructure consulting and certified training-of-trainers. In her career, she has garnered 35 IT Certifications including Cisco CCSI/CCNP, CISSP, CISA, MCSE/MCITP, and many more. She has also authored 40 published certification textbooks and is currently working on the new CompTIA PenTest+ courseware.
Become a Certified IT Professional with Our Master CompTIA Certification Training. Get 12 Courses for One Low Price – Limited Time Offer!
Our CompTIA certification training courses are comprehensive, providing IT professionals with 12 courses that feature the Core Series for A+ certification as well as introducing our innovative IT Fundamentals (ITF+) course! Furthermore, we have PenTest+, Security+, Cloud+ and Network+. For those seeking to become an expert in IT certifications – this is the training product for you!