CompTIA Network Vulnerability Assessment Professional (CNVP)
Take 25% off all orders of $49.00 or more! No coupon needed; auto applies in cart.
The CompTIA CNVP is an invaluable certification specifically crafted for IT professionals with 2 to 5 years of experience. This stackable program provides the course materials required to not only earn your Security+ and PenTest+ certifications, but also allows you to excel in your knowledge as a cybersecurity specialist.
You can get these courses and more in our Master CompTIA Certification training series. The Master CompTIA training series contains 12 courses and is available for a limited time at an exceptionally low price. Now on sale for a limited time. Get serious about your training and elevate your career!
The CompTIA CNVP is a stackable certification by CompTIA. It is designed for IT professionals and Operations Specialist with 2 to 5 years of experience. The ITU Certification Path for the CompTIA CNVP certification consists of the learning materials to allow you to study for and pass the CompTIA Security+ and CompTIA PenTest+ certification exams.
Completing this path and passing the two certification exam means you end of with two CompTIA certifications and are a designated a CompTIA Network Vulnerability Assessment Professional (CNVP).
The two courses contained in this path are:
CompTIA Security+
CompTIA PenTest+
Upon successfully passing the applicable exams provided by CompTIA, you will earn the CNVP certification badge.
For more information on CompTIA Stackable Certifications, visit the CompTIA website. Pricing charged by CompTIA varies by exam. For details on current pricing, visit CompTIA Pricing on their website.
Your Training Instructor
Chrys is an education and technology expert who specializes in enterprise-level IT infrastructure consulting and certified training-of-trainers. In her career, she has garnered 35 IT Certifications including Cisco CCSI/CCNP, CISSP, CISA, MCSE/MCITP, and many more. She has also authored 40 published certification textbooks and is currently working on the new CompTIA PenTest+ courseware.
CompTIA PenTest+ (PT0-001) Course Outline
Module 1 - The Pen Test Engagement

Module 1 Notes
1.0 PenTest Plus Introduction
1.1 PenTest Plus Topics
1.2 PenTest Engagement
1.3 Threat Modeling
1.4 Technical Constraints
1.5 PenTest Engagement Review
1.6 Examining PenTest Engagement Documents Act
Module 2 - Passive Reconnaissance

Module 2 Notes
2.1 Passive Reconnaissance part1
2.2 WHOIS Act
2.3 Passive Reconnaissance part2
2.4 Google Hacking Act
2.5 Passive Reconnaissance part3
2.6 DNS Querying Act
2.7 Passive Reconnaissance part4
2.8 Email Server Querying Act
2.9 SSL-TLS Cerfificates
2.10 Shodan Act
2.11 The Havester
2.12 TheHarvester Act
2.13 Recon-ng
2.14 Recon-g Act
2.14 Recon-ng-Part-2-API-key Act
2.15 Maltego
2.16 Have I been Pwned
2.17 Punked and Owned Pwned Act
2.18 Fingerprinting Organization with Collected Archives
2.19 FOCA Act
2.20 Findings Analysis Weaponization
2.21 Chp 2 Review
Module 3 - Active Reconnaissance

Module 3 Notes
3.1 Active Reconnaissannce
3.2 Discovery Scans Act
3.3 Nmap
3.4 Nmap Scans Types Act
3.5 Nmap Options
3.6 Nmap Options Act
3.7 Stealth Scans
3.8 Nmap Stealth Scans Act
3.9 Full Scans
3.10 Full Scans Act
3.11 Packet Crafting
3.12 Packet Crafting Act
3.13 Network Mapping
3.14 Metasploit
3.15 Scanning with Metasploit Act
3.16 Enumeration
3.17 Banner Grabbing Act
3.18 Windows Host Enumeration
3.19 Winddows Host Enumeration Act
3.20 Linux Host Enumeration
3.21 Linux Host Enumeration Act
3.22 Service Enumeration
3.23 Service Enumeration Act
3.24 Network Shares
3.25 SMB Share Enumeration Act
3.26 NFS Network Share Enumeration
3.27 NFS Share Enumeration Act
3.28 Null Sessions
3.29 Null Sessions Act
3.30 Website Enumeration
3.31 Website Enumeration Act
3.32 Vulnerability Scans
3.33 Compliance Scans Act
3.34 Credentialed Non-credentialed Scans
3.35 Using Credentials in Scans Act
3.36 Server Service Vulnerability Scan
3.37 Vulnerability Scanning Act
3.38 Web Server Database Vulnerability Scan
3.39 SQL Vulnerability Scanning Act
3.40 Vulnerability Scan Part 2 OpenVAS Act
3.41 Web App Vulnerability Scan
3.42 Web App Vulnerability Scanning Act
3.43 Network Device Vulnerability Scan
3.44 Network Device Vuln Scanning Act
3.45 Nmap Scripts
3.46 Using Nmap Scripts for Vuln Scanning Act
3.47 Packet Crafting for Vulnerbility Scans
3.48 Firewall Vulnerability Scans
3.49 Wireless Access Point Vunerability
3.50 Wireless AP Scans Act
3.51 WAP Vulnerability Scans
3.52 Container Security issues
3.53 How to Update Metasploit Pro Expired Trial License
Module 4 - Physical Security

Module 4 Notes
4.1 Physical Security
4.2 Badge Cloning Act
4.3 Physical Security Review
Module 5 - Social Engineering

Module 5 Notes
5.1 Social Engineering
5.2 Using Baited USB Stick Act
5.3 Using Social Enginnering to Assist Attacks
5.4 Phishing Act
5.5 Social Engineering Review
Module 6 - Vulnerability Scan Analysis

Module 6 Notes
6.1 Vulnerbility Scan Analysis
6.2 Validating Vulnerability Scan Results Act
6.3 Vulnerbility Scan Analysis Review
Module 7 - Password Cracking

Module 7 Notes
7.1 Password Cracking
7.2 Brute Force Attack Against Network Service Act
7.3 Network Authentication Interception Attack
7.4 Intercepting Network Authentication Act
7.5 Pass the Hash Attacks
7.6 Pass the Hash Act
7.7 Password Cracking Review
Module 8 - Penetrating Wired Networks

Module 8 Notes
8.1 Penetrating Wired Network
8.2 Sniffing Act
8.3 Eavesdropping
8.4 Eavesdropping Act
8.5 ARP Poisoning
8.6 ARP Poisoning Act
8.7 Man In The Middle
8.8 MITM Act
8.9 TCP Session HiJacking
8.10 Server Message Blocks SMB Exploits
8.11 SMB Attack Act
8.12 Web Server Attacks
8.13 FTP Attacks
8.14 Telnet Server Attacks
8.15 SSH Server Attacks
8.16 Simple Network Mgmt Protocol SNMP
8.17 Simple Mail Transfer Protocol SMTP
8.18 Domain Name System DNS Cache Poisoning
8.19 Denail of Service Attack DoS-DDoS
8.20 DoS Attack Act
8.21 VLAN Hopping Review
Module 9 - Penetrating Wireless Networks

Module 9 Notes
9.1 Penetrating Wireless Networks
9.2 Jamming Act
9.3 Wireless Sniffing
9.4 Replay Attacks
9.5 WEP Cracking Act
9.6 WPA-WPA2 Cracking
9.7 WAP Cracking Act
9.8 Evil Twin Attacks
9.9 Evil Twin Attack Act
9.10 WiFi Protected Setup
9.11 Bluetooth Attacks
9.12 Penetrating Wireless Networks
Module 10 - Windows Exploits

Module 10 Notes
10.1 Windows Exploits
10.2 Dumping Stored Passwords Act
10.3 Dictionary Attacks
10.4 Dictionary Attack Against Windows Act
10.5 Rainbow Table Attacks
10.6 Credential Brute Force Attacks
10.7 Keylogging Attack Act
10.8 Windows Kernel
10.9 Kernel Attack Act
10.10 Windows Components
10.11 Memory Vulnerabilities
10.12 Buffer Overflow Attack Act
10.13 Privilegde Escalation in Windows
10.14 Windows Accounts
10.15 Net and WMIC Commands
10.16 Sandboxes
Module 11 - Linux Exploits

Module 11 Notes
11.1 Linux Exploits
11.2 Exploiting Common Linux Features Act
11.3 Password Cracking in Linux
11.4 Cracking Linux Passwords Act
11.5 Vulnerability Linux
11.6 Priviledge Escalation Linux
11.7 Linux Accounts
11.8 Linux Exploits Review
Module 12 - Mobile Devices

Module 12 Notes
12.1 Mobile Devices
12.2 Hacking Android Act
12.3 Apple Exploits
12.4 Moblie Devices Review
Module 13 - Specialized Systems

Module 13 Notes
13.1 Specialized Systems
13.2 Specialized Systems Review
Module 14 - Scripts

Module 14 Notes
14.1 Scripts
14.2 Powershell
14.3 Python
14.4 Ruby
14.5 Common Scripting Elements
14.6 Scripts Review
14.7 Better Ping Sweep
14.8 Simple Port Scanner2
14.9 Multitarget Port Scanner
14.10 Port Scanner with Nmap
14.11 Scripts Review
Module 15 - Application Testing

Module 15 Notes
15.1 Application Testing
15.2 Reverse Engineering
Module 16 - Web App Exploits

Module 16 Notes
16.1 Webb App Exploits
16.2 Injection Attacks
16.3 HTML Injection
16.4 SQL Hacking - SQLmap Act
16.5 Cross-Site Attacks
16.6 Cross-Site Request Forgery
16.7 Other Web-based Attacks
16.8 File Inclusion Attacks
16.9 Web Shells
16.10 Web Shells Review
Module 17 - Lateral Movement

Module 17 Notes
17.1 Lateral Movement
17.2 Lateral Movement with Remote Mgmt Services
17.3 Process Migration Act
17.4 Passing Control Act
17.5 Pivoting
17.6 Tools the Enable Pivoting
17.7 Lateral Movement Review
Module 18 - Persistence

Module 18 Notes
18.1 Persistence
18.2 Breeding RATS Act
18.3 Bind and Reverse Shells
18.4 Bind Shells Act
18.5 Reverse Shells
18.6 Reverse Shells Act
18.7 Netcat
18.8 Netcat Act
18.9 Scheduled Tasks
18.10 Scheduled Tasks Act
18.11 Services and Domains
18.12 Persistence Review
Module 19 - Cover Your Tracks

Module 19 Notes
19.1 Cover Your Tracks
19.2 Cover Your Tracks - Timestomp Files Act
19.3 Cover Your Tracks - Frame the Administrator Act
19.4 Cover Your Tracks - Clear the Event Log Act
19.5 Cover Your Tracks Review
Module 20 - The Report

Module 20 Notes
20.1 The Report
20.2 The Report Review
Module 21 - Post Engagement Cleanup

Module 21 Notes
21.1 Post Engagement Cleanup_1
21.3 Post Engagement Cleanup Review
21.4 PenTest Plus Conclusion.mp4
CompTIA Security+ SY0-501 Course Outline
Module 1: Threats, Attacks and Vulnerabilities

Module 1 Workbook
Introduction
Types Of Malware-Part 1
Types Of Malware-Part 2
Types Of Attacks-Part 1
Types Of Attacks-Part 2
Types Of Attacks-Part 3
Types Of Attacks-Part 4
Types Of Attacks-Part 5
Threat Actors-Part 1
Threat Actors-Part 2
Penetration Testing And Vulnerability Scanning-Part 1
Penetration Testing And Vulnerability Scanning-Part 2
Impact Of Vulnerabilities-Part 1
Impact Of Vulnerabilities-Part 2
Module 2: Technologies and Tools

Module 2 Workbook
Networking Hardware And Software-Part 1
Networking Hardware And Software-Part 2
Networking Hardware And Software-Part 3
Networking Hardware And Software-Part 4
Networking Hardware And Software-Part 5
Networking Hardware And Software-Part 6
Security Assessment-Part 1
Security Assessment-Part 2
Troubleshooting Issues-Part 1
Troubleshooting Issues-Part 2
Securing Mobile Devices-Part 1
Securing Mobile Devices-Part 2
Securing Mobile Devices-Part 3
Securing Mobile Devices-Part 4
Secure Protocols-Part 1
Secure Protocols-Part 2
Module 3: Architecture and Design

Module 3 Workbook
Secure Network Architecture-Part 1
Secure Network Architecture-Part 2
Secure System Designs-Part 1
Secure System Designs-Part 2
Secure Staging Deployment Concepts
Embedded Systems-Part 1
Embedded Systems-Part 2
Application Development And Deployment-Part 1
Application Development And Deployment-Part 2
Application Development And Deployment-Part 3
Physical Security Controls-Part 1
Physical Security Controls-Part 2
Physical Security Controls-Part 3
Cloud Virtualization-Part 1
Cloud Virtualization-Part 2
Module 4: Identity and Access Management

Module 4 Workbook
Identity And Access Management-Part1
Identity And Access Management-Part2
Identity And Access Services-Part1
Identity And Access Services-Part2
Management Controls-Part1
Management Controls-Part2
Account Management Practices-Part1
Account Management Practices-Part2
Account Management Practices-Part3
Module 5: Risk Management

Module 5 Workbook
Organizational Security-Part1
Organizational Security-Part2
Business Impact Analysis Concepts-Part1
Business Impact Analysis Concepts-Part2
Risk Management-Part1
Risk Management-Part2
Incident Response Procedures-Part1
Incident Response Procedures-Part2
Forensics-Part1
Forensics-Part2
Disaster Recovery-Part1
Disaster Recovery-Part2
Types Of Control-Part1
Types Of Control-Part2
Data Security And Privacy Practices-Part1
Data Security And Privacy Practices-Part2
Module 6: Cryptography and PKI

Module 6 Workbook
Cryptographic Basics-Part1
Cryptographic Basics-Part2
Cryptographic Basics-Part3
Cryptographic Algorithms-Part1
Cryptographic Algorithms-Part2
Wireless Security-Part1
Wireless Security-Part2
Implementing PKI-Part1
Implementing PKI-Part2
Implementing PKI-Part3
Conclusion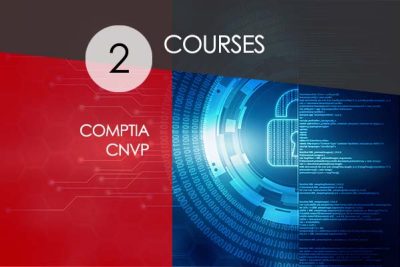 CompTIA Network Vulnerability Assessment Professional (CNVP)
The CompTIA CNVP is an invaluable certification specifically crafted for IT professionals with 2 to 5 years of experience. This stackable program provides the course materials required to not only earn your Security+ and PenTest+ certifications, but also allows you to excel in your knowledge as a cybersecurity specialist.
Additional Options to Access This Training This training is also part of our extensive training library containing over 225 courses, 12,000+ videos and over 19,000 practice test questions.