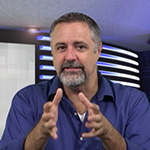 Josh Schofer
Cybersecurity | Cloud Trainer
Josh has 15 plus years in account management and client support with over 5 years specifically in the healthcare industry. Josh provides hands-on leadership to the healthcare team at NetDirector by focusing on client success and innovative solutions. As the Healthcare Operations Manager, Josh ensures that each client implementation is completed as efficiently as possible with the greatest impact to the client. He holds a Bachelor of Arts degree from the University of South Florida.
Unlock the full potential of Microsoft Excel with our comprehensive online training course. Learn Excel from scratch and advance your skills today!
In this course you will learn how to use Microsoft Excel 2016 more effectively whether you are using it at home or in the workplace. Understand how to manipulate data within a spreadsheet, validate and present information using the built in structure and functions of Microsoft Excel. This Microsoft Excel 2016 training course covers basic, intermediate and advanced competency levels.