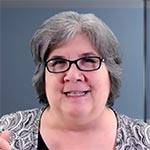 Chrys Thorsen
Education and Technology Expert
Chrys Thorsen is an education and technology expert who specializes in enterprise-level IT infrastructure consulting and certified training-of-trainers. In her career, she has garnered over 50 IT Certifications including CISSP, CISA, CEHv12, PenTest+, CompTIA CNVP, Cisco CCSI/CCNP, Microsoft Cloud and on-premises technologies, VMware vSphere, and many more. She has also authored 40 published certification textbooks, and over 35 full-length IT certification video courses.
When not working in the United States, Chrys spends her time abroad capacity-building IT literacy in developing nations in Sub-Saharan Africa. Her client list has included: the US Federal Government, the Republic of Zambia Ministry of Health, Cavendish University Zambia, Accenture, JP Morgan Chase, the US Centers for Disease Control and Prevention, the Elizabeth Glaser Pediatric AIDS Foundation (EGPAF), Hughes Aircraft, Microsoft, and many more.
Chrys lives by, and is fond of repeating, her professional creed:
"The only true measure of success for any project or training is results on the ground. Everything else is just noise." "I teach what I deploy; I deploy what I teach."
Gain the upper hand in cybersecurity with Certified Ethical Hacker v12 training. Enroll now in our affordable online course and start learning today!
Certified Ethical Hacker v12 is the latest iteration of EC-Council's Certified Ethical Hacker v12 series. ITU offers CEH training to provide you the tools to research, discover and scan targets, analyze vulnerabilities and test attack methods and tools. The focus of this CEH online training course is to solve the challenge of breaking into a target network, collect evidence of success, and escape unnoticed. Every lesson and topic are infused with step-by-step guided practice using real hardware- and software-based hacking tools. Throughout both lecture and hands-on activities, the instructor, Chrys Thorsen provides commentary from the field including tips, tricks and hard-learned lessons.