This IT course teaches the skills required to implement enterprise-level wired and wireless network solutions, identify and troubleshoot performance issues and harden networks against threats to mitigate security vulnerabilities. This IT course online covers the exam objectives needed in order to pass the CompTIA Network+ N10-008 certification exam
CompTIA Network+ N10-008 exam: Show Proof You Are Qualified
CompTIA Network+ teaches technical skills for students to develop a career in IT infrastructure covering troubleshooting, configuring, and network performance monitoring. Online IT course covers all exam (N10-008) objectives and additional topics that provide background and context for network operations. Activities and practice exam questions are presented throughout the course. The instructor also gives you outlines, workbooks, lab set up guide, and more! CompTIA certification is one of the most recognized IT based certifications recognized around the world.
The CompTIA Network+ ( Plus ) N10-008 exam training provides students with core skills needed to function in a career in IT infrastructure and managing networks.
Network Plus certification provided by CompTIA is a globally recognized certification for IT professionals. It creates the foundation needed to specialize in a vendor solution. The office exam id is N10-008.
As a Certified Network plus professional, you will have the broad knowledge and practical skills required to implement enterprise-level wired and wireless network solutions, identify and troubleshoot network performance issues and harden networks against threats to mitigate security vulnerabilities with Network Hardening Techniques. Your career role will typically include hands-on skills designing and implementing networks and troubleshooting problems . You will gain skills in critical security concepts, topologies and types, configuring and troubleshooting routers, bandwidth management concepts, cloud redundancy concepts, ensuring availability, disaster recovery concepts, and so much more.
Network+ N10-008 Exam Objectives
Per CompTIA, the following N10-008 exam objectives have been established for the Network+ certification:
The CompTIA Network+ certification N10-008 exam will verify the successful candidate has the knowledge and skills required to assess the security posture of an enterprise environment and recommend and implement appropriate security solutions; monitor and secure hybrid environments, including cloud, mobile, and IoT; operate with an awareness of applicable laws and policies, including principles of governance, risk, and compliance; identity, analyze, and respond to security events and incidents.
The exam assesses a candidate's knowledge of IT infrastructure covering troubleshooting, configuring, and managing networks.
Want to Learn More about CompTIA
Learn more about the CompTIA Network (N10-008) certification by visiting the CompTIA website.
Module 0 - Course introduction

0.1 Instructor Intro
0.2 Course Overview
Module 1 - Networking Fundamentals

1.1 Intro to Networking
1.1.1 Activity: Creating a Network
1.2 Common Terminology
1.2.1 Activity: Examining Ports and Sockets
1.3 OSI Model
1.4 DoD Model
1.4.1 Activity: Examining Network Layers
1.5 TCP, UDP, IP
1.5.1 Activity: Examining TCP
1.5.2 Activity: Examining UDP
1.5.3 Activity: Examining IP
1.6 ICMP, IGMP, ARP
1.6.1 Activity: Examining ICMP
1.6.2 Activity: Examining ARP
1.6.3 Activity: Examining IGMP
1.7 Network Topologies
1.8 Network Types
1.9 Part 1: Network Characteristics
1.9 Part 2: Network Characteristics
1.10 Module 1 outro
Module 2 - Cables and Connectors

2.1 Ethernet Standards
2.2 Copper Cable Types
2.3 Fiber Optic Cable Types
2.4 Connector Types
2.4.1 Activity: Selecting the Right Cable
2.5 Media Converters and Transceivers
2.6 Cable Management
2.7 Module 2 Outro
Module 3 - Internet Protocol (IP)

3.1 IPv4 Basics
3.2 IP Packet and Interface Types
3.2.1 Activity: Configuring Client IP Settings
3.3 Binary Numbering System
3.4 Classful and Classless Addressing
3.5 Understanding CIDR Notation
3.6 IPv4 Subnetting Method
3.7 Verifying with Binary
3.8 Finding Subnet IDs
3.8.1 Activity: Subnetting a Class C Network
3.9 The Delta in Action
3.9.1 Activity: Subnetting With the Delta
3.10 Subnetting Based on Hosts
3.11 Subnetting in Other Octets
3.12 Supernetting
3.12.1 Activity: Supernetting
3.13 IPv6
3.14 IPv4 - IPv6 Transition Mechanisms
3.15 Module 3 Outro
Module 4 - Layer 7 Protocols

4.1 Remote Control Protocols
4.2 File Sharing Protocols
4.3 Web Protcols
4.4 Email Protocols
4.5 Database Protocols
4.6 Voice Protocols
4.7 Security Protocols
4.8 Management Protocols
4.9 Module 4 Outro
Module 5 - Network Services

5.1 DHCP
5.1.1 Activity: Configuring DHCP
5.1.2 Activity: Configuring a DHCP Relay Agent
5.2 DNS
5.2.1 Activity: Configuring DNS - Part 1
5.2.2 Activity: Configuring DNS - Part 2
5.3 NTP
5.4 Corporate and Datacenter Network Architecture
5.5 Cloud Concepts and Connectivity Options
5.6 Module 5 Outro
Module 6 - Networking Devices

6.1 Introductory Concepts
6.2 Repeaters and Hubs
6.2.1 Activity: Connecting Devices with a Hub
6.3 Bridges and Switches
6.3.1 Activity: Connecting Devices with a Switch
6.4 Routers and Multilayer Switches
6.5 Security Devices
6.6 Modems
6.7 Module 6 Outro
Module 7 - Networked Devices

7.1 IP Devices
7.2 IoT
7.2.1 Activity - Programming IoT Devices
7.3 ICS/SCADA
7.4 Module 7 Outro
Module 8 - Routing and Bandwidth Management

8.1 Routing Basics
8.1.1 Activity: Configuring Static Routes
8.2 Packet Delivery on the Same Network
8.3 IP Routing Across a Single Router
8.4 IP Routing Across Multiple Hops
8.4.1 Activity: Static Routes - CHALLENGE
8.5 Route Selection
8.6 RIP
8.6.1 Activity: Configuring RIP - CHALLENGE
8.7 OSPF
8.8 EIGRP
8.9 BGP
8.10 NAT/PAT
8.11 Bandwidth Management (with Module 8 Outro)
Module 9 - Ethernet Switching

9.1 Ethernet Basics
9.2 Switching Overview
9.2.1 Activity: Examining a MAC Table
9.3 VLANs
9.3.1 Activity: Creating VLANs
9.4 VLAN Trunking
9.4.1 Activity: Configuring VLAN Trunking
9.5 VLAN Routing
9.5.1 Activity: Configuring VLAN Routing
9.6 Contention Management
9.7 Switchport Configuration (with Module 9 Outro)
Module 10 - Wireless Technologies

10.1 Wireless Overview
10.2 Radio Basics
10.3 Modulation
10.4 Wi-Fi Standards
10.5 Antennas
10.6 Wi-Fi Service Sets
10.7 Wi-Fi Security
10.8 Cellular
Module 11 Network Performance

11.1 Monitoring Performance
11.2 Common Metrics
11.2.1 Activity: Examining Interface Statistics
11.3 SNMP
11.4 Netflow
11.5 Network Security Monitoring (with Module 11 Outro)
Module 12 High Availability and Disaster Recovery

12.1 HA and DR Concepts
12.2 High Availability Mechanisms
12.3 Disaster Recovery Mechanisms
12.4 Facility and Infrastructure Support (with Module 12 Outro)
Module 13 Organizational Documents

13.1 Plans and Procedures
13.2 Security Policies
13.3 Loss Prevention
13.4 Common Agreements
13.5 Common Documentation
13.6 Structured Cabling - MDF and IDF
13.7 Horizontal and Vertical Cabling
13.7.1 Activity - Implementing Cable Management
13.8 Labeling
13.9 Surveys and Assessments (with Module 13 Outro)
Module 14 Network Security

14.1 Common Security Concepts
14.2 Common Attack Types
14.3 Spoofing-based Attacks
14.4 Hijacking and MITM
14.5 Social Engineering
14.6 Network Segmentation
14.7 Private VLANs
14.8 Single Organization Authentication
14.9 Extending Authentication
14.10 Authorization
14.11 Network Device Hardening
14.12 Wireless Security
14.13 Remote Access Security
14.14 IoT Security
14.15 Physical Security (with Module 14 Outro)
Module 15 Network Troubleshooting

15.1 Troubleshooting Methodology
15.2 Physical Connectivity Issues
15.3 Hardware Testing Tools
15.3.1 Activity - Testing an Ethernet Cable
15.3.2 Activity - Crimping on an RJ-45 Connector
15.3.3 Activity - Punching Down Twisted Pair
15.3.4 Activity - Using a Telephone Toner
15.4 Understanding Electricity
15.4.1 Activity - Checking Cable Continuity
15.4.2 Activity - Testing DC Voltage
15.4.3 Activity - Testing AC Voltage
15.5 Twisted Pair Pinout Problems
15.6 Twisted Pair Termination Problems
15.7 Repairing Damaged Twisted Pair Cable
15.8 Fiber Optic Connectivity Issues
15.8.1 Activity - Testing a Fiber Optic Cable
15.9 Common Port Problems
15.9.1 Working with Ports and Their Devices
15.10 Common Software Testing Tools
15.10.1 Activity - Scanning for Open Ports
15.11 Common Command Line Utilities
15.12 Troubleshooting Basic IP Networking Issues
15.13 Common Switching Issues
15.14 Switching Test Tools and Techniques
15.15 Common IP Routing Issues
15.16 Wi-Fi Access Point Issues
15.17 Wirelss Interference
15.17.1 Activity - Using a Spectrum Analyzer
15.18 Wireless Antenna Issues
15.18.1 Activity - Configuring a Wi-Fi Router
15.19 WAP Placement Strategies
15.20 Infrastructure Service Issues (DHCP)
15.21 Infrastructure Service Issues (DNS)
15.22 Infrastructure Service Issues (NTP)
15.23 Fireall / ACL Issues
15.24 VPN Issues
15.25 Additional Network Security Troubleshooting and Tips
15.26 Advanced Networking Issues
15.27 Troubleshooting Server Services (with Module 15 Outro)
CompTIA Network+ N10-008 Course Outro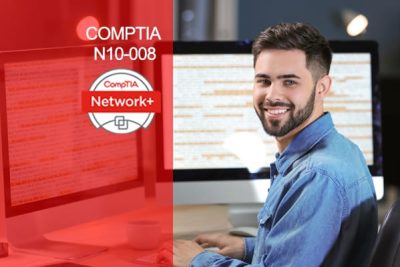 This IT course teaches the skills required to implement enterprise-level wired and wireless network solutions, identify and troubleshoot performance issues and harden networks against threats to mitigate security vulnerabilities. This IT course online covers the exam objectives needed in order to pass the CompTIA Network+ N10-008 certification exam