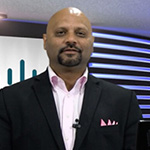 Rafiq Wayani
Project Management Instructor
Rafiq has extensive experience including more than 20 years in IT as a Systems Architect, Software Engineer, DBA, and Project Manager. He has instructed in a variety of technical areas and has designed and implemented network and information systems. Bringing nearly 30 years of advanced IT experience to each course and adding his unique perspective and "real world" tips, Rafiq has a knack for making complex topics easy to understand.
Learn how to deploy and manage Azure services with our online Azure Training course. Get hands-on experience and become a certified Azure professional.
Microsoft Azure is a cloud computing platform and infrastructure created by Microsoft for building, deploying, and managing applications and services through a global network of Microsoft-managed data centers. It provides a range of cloud services, including computing, storage, networking, analytics, machine learning, and internet of things (IoT), as well as many other services.