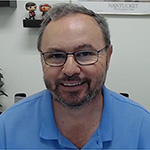 Joe Holbrook
Independent Trainer | Consultant | Author
Joe Holbrook has been in the IT field since 1993 when he was exposed to several HPUX systems on board a U.S. Navy flagship. He has migrated from UNIX world to Storage Area Networking(SAN), Enterprise Virtualization, Cloud Architectures, and now specializing in Blockchain and Cryptocurrency. He previously worked for numerous companies like HDS, 3PAR, Brocade, HP, EMC, Northrup Grumman, ViON, Ibasis.net, Chematch.com, SAIC and Siemens Nixdorf.
Currently he works as a Subject Matter Expert specializing in Enterprise Cloud and Blockchain Technologies. He is the CLO of Techcommanders.com Elearning and consulting, He holds numerous IT certifications from AWS, GCP, HDS and other organizations.
He is an avid speaker and well-known course author residing in Jacksonville, Florida.
Get certified with CompTIA Cloud+ CV0-003 Training and gain skills for cloud deployment and maintenance. Enroll now with ITU Online.
The CompTIA Cloud+ CV0-003 Training for the exam will certify the successful candidate has the knowledge and skills required to understand standard cloud methodologies security tools and techniques to implement, maintain, and deliver cloud technologies (e.g. network, storage platforms, and virtualization technologies) to understand aspects of cloud environments and IT security and use industry best practices related to cloud technology implementations.