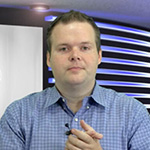 Chris Avants
Senior Cisco Instructor
Chris is a Sr. Cisco Instructor and leading consultant for clients throughout the U.S. Chris has over 15 years' experience as a network engineer and 5 additional years as an instructor. Chris has worked at the service provider/partner level throughout his career, working with national and global clients to solve complex business problems through the use of technology and IT training solutions. Working with Chris, you will see a true industry expert with experience, drive, and patience unparalleled in the industry.
With the Master ITU CompTIA training series, become a Certified IT Professional. Get 12 Courses for One Low Price – Limited Time Offer!
Get all 12 CompTIA courses for one low price in this comprehensive training series. Our CompTIA certification training courses are comprehensive, providing IT professionals with 12 courses that feature the Core Series for A+ certification as well as introducing our innovative IT Fundamentals (ITF+) course! Furthermore, we have PenTest+, Security+, Cloud+ and Network+. For those seeking to become an expert in IT certifications – this is the training product for you!