In this IT course you will learn networking concepts, the function and installation of network infrastructure components, network operations concepts and implementation, network security concepts and implementation, and network troubleshooting techniques and tool usage. This course will cover the objectives needed for the CompTIA Network+ N10-007 certification exam.






Certificate of Completion
CompTIA Network+ helps students develop networking skills for a career in IT infrastructure covering troubleshooting, configuring, and managing networks. It covers all exam (N10-007) objectives and additional topics that provide background and context. Demonstrations and instructor broad knowledge commentary throughout the course come from real-world experience. Included are examples and tips that the network professional can use in a production networking environments. This IT course is ideal for an individual developing a career in an IT infrastructure job roles.
Special Offer!
Take advantage of this incredible offer and get this IT course and more with our Master CompTIA Training Series containing 12 IT courses:
What will you learn? During this network course, you will learn concepts that cover troubleshooting, network management, installation, and configuration of networks. Specifically, in this course, you will learn the following:
Describe networking concepts and networking technologies
Explain the function and installation of network infrastructure components
Describe network operations concepts and implementation
Describe network security concepts and implementation
Explain network troubleshooting techniques and tool usage for complex networking issues
For more information on the requirements for the CompTIA Network+ certification, visit the CompTIA website. ITU Online offers a full line of courses designed to help a student learn and pass a number of CompTIA certifications.
Proudly DisplayYour Achievement
Upon completion of your training, you'll receive a personalized certificate of completion to help validate to others your new skills.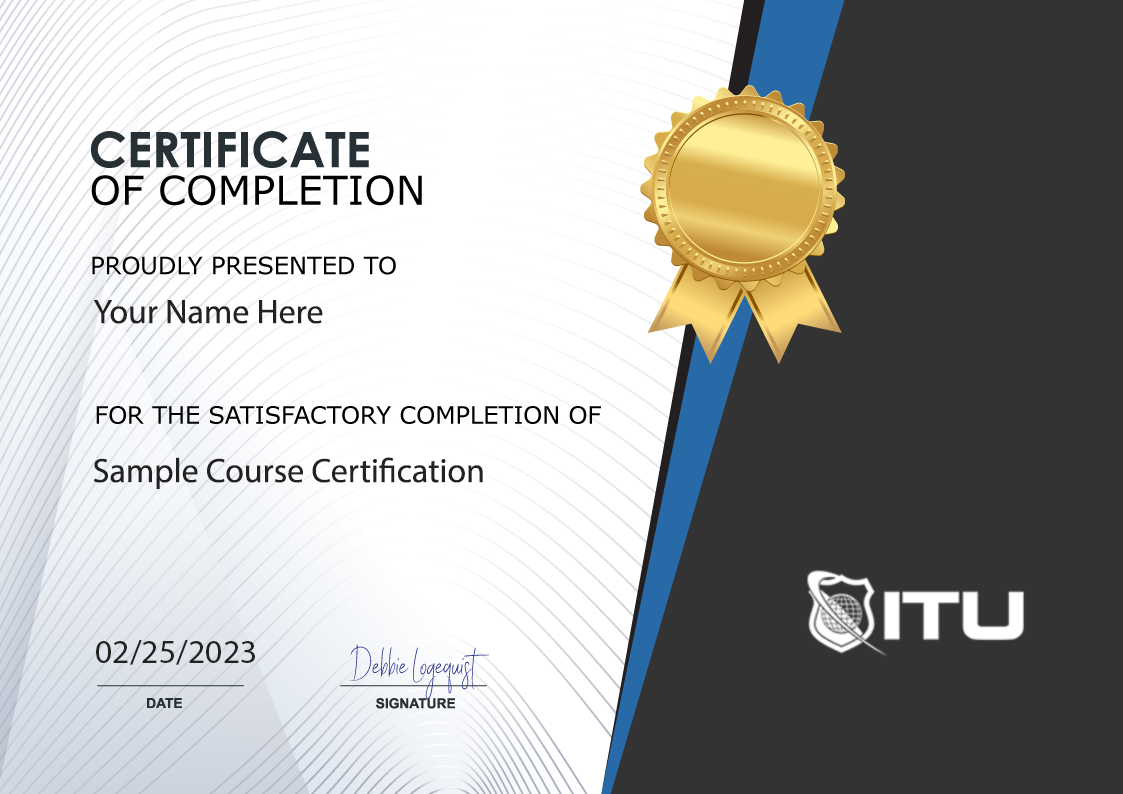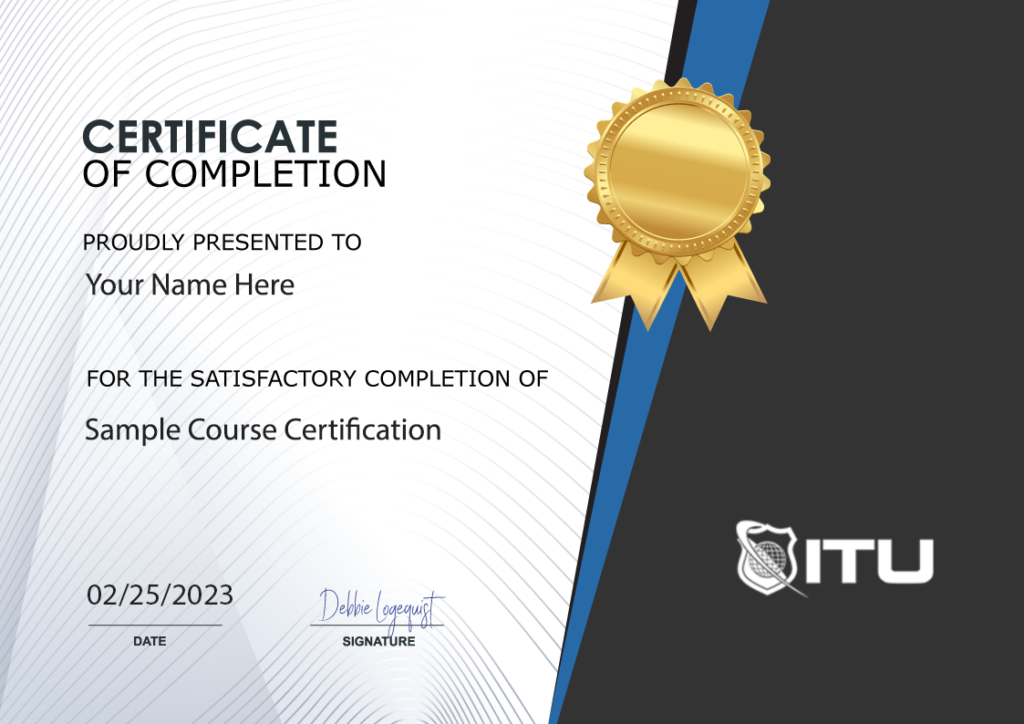 CompTIA Network+ N10-007 Course Content
Module 1 - Networking Concepts

Module 1 Workbook

Intro Network Plus N10 007

Basic Networking

Activity Basic Networking

OSI Model

Exploring the OSI Model- Act

Protocol and Ports

Activity Examining Protocols and Ports

Connection-oriented vs. connectionless

Activity Comparing TCP and UDP

Internet Protocol (IP)

Activity Examining the Lower Layer Protocols

Layer 7 Remote Control Protocols

Layer 7 File Transfer Protocols

Layer 7 Messaging Protocols

Activity Examining Messaging Protocols

Layer 7 Web Traffic Protocols

Layer 7 Streaming Media Protocols

Layer 7 Infrastructure Management Protocols

Switching

Activity Creating Collision and Broadcast Domains

Interface Properties and Segmentation

Activity Creating a Basic Network Segment

Switching prt 2

Activity Switching

Switching Loop Management

Activity Managing Switching Loops

VLANs

Activity Creating VLANs

routing

Activity Examining ARP

IP Addressing Basics

Activity Configuring IP

Routers

Activity Setting Up a Router

Routing Basics

Activity Adding Static Routes

VLAN Routing

Activity Routing Between VLANs

NAT/PAT

Activity Configuring NAT/PAT

Routing Protocols

Activity Configuring a Routing Protocol

Firewalls

Activity Configuring Firewalls

Advanced Switching and Routing Concepts

Activity Exploring IPv6

Performance Concepts

IP Addressing

Subnetting

Activity Learning to Subnet

Address Assignments

Network Types and Topologies

Wireless Topologies

Network Types

Technologies that Facilitate the Internet Of Things (IoT)

Wireless Technologies

802.11 Standards

Wi-Fi Frequencies

Wi-Fi Antenna Concepts

Bluetooth

Cellular

Activity Using an RF Spectrum Analyzer

cloud concepts

Activity Exploring Cloud Services

Network Services

Activity Setting up DNS

DHCP Service

Activity Setting Up DHCP

NTP
Module 2 - Infrastructure

Module 2 Workbook

Module 2 – Infrastructure

Activity Testing a Fiber Optic Cable

Plenum vs. PVC

Activity Crimping on an RJ-45 Connector

Transceivers

Activity Terminating Cable to a 110 Block

Copper Cable Standards

Activity Creating a Crossover Cable

Ethernet Deployment Standards

Network Device Placement and Installation

Repeater

Router

Modem

Activity Setting up a WAP

Firewall

Media Converter

Advanced Network Devices

Wireless Controller

Proxy Server

Activity Configuring Proxy Settings

VPN Concentrator

Virtual Networking Components

Network Storage Types

WAN Technologies

Transmission Mediums

Activity Configuring WAN Links

Termination
Module 3 - Network Operation

Module 3 Workbook

Network Operations Documentation

Standard Operation Procedures

Logical vs Physical Diagrams

Rack Diagrams

Change Management

Wiring and Ports Locations

IDF-MDF Documentation

Labeling

Using Documentation Act

Continuity and Disaster

MTTR Mean Time Repair

Recovery

Backing Up Your Data Act

Event Management

Metrics

Scanning Monitoring Patching

Testing the Network Act

HTTPS-Management

Out-of-Band Management

RDP

Remote Access Methods

Remote File Access

Making Remote Connections Act

SSH

VNC

Policies and Best Practices

Creating Policies and Procedures Act
Module 4 - Network Security

Module 4 Workbook

Physical Security Devices

Examining Security Devices Act

Authentication and Access

Access Controls Methods Act

Multifactor Authentication

Basic Wireless Network Security

Demonstrating the Need for Wireless Act

Common Network Attacks

Conducting a Phishing Campaign Act

Network Device Hardening

Supporting Secure Authentication Encryption Act

Updating Firmware

Explain Common Mitigation Techniques

Implementing a Honey Pot Act
Module 5 - Network Troubleshooting and Tools

Module 5 Workbook

Network Troubleshoot

Using the Appropriate Tools

Hardware Tools Analyzers

Troubleshooting With Hardware Tools Act

Software Tools

Troubleshooting with Software Tools Act

Software Tools Command Line

Troubleshooting with Command Line Tools Act

Troubleshoot Common Wired Connectivity

Troubleshooting Signal Problems

Physical Issues

Transceiver Issues

Troubleshooting Transceiver Problems

Traffic Flow Issues

Troubleshoot Common Wireless Connectivity

Latency and Jitter

Incorrect WAP Types

Troubleshooting WAP Issues

Troubleshooting Common Network

DHCP Issues

Firewall ACL Issues

Advanced Network Issues

Unresponsive Services

Case Study Troubleshooting

Outro N10 007
Gain access to this training and all our other courses, offering over 2,500 hours of content, with our cost-effective monthly subscription. No obligations. Cancel anytime.
Additional Options to Access This Training This training is also part of our extensive training library containing over 225 courses, 12,000+ videos and over 19,000 practice test questions.
Boost your IT career with Microsoft MTA 98-366 training! Learn networking basics, hardware, protocols, and more. Enroll now and advance your skills.
This course is designed to provide six hours of training and 45 videos that will equip you with the knowledge and skills needed to create network diagrams, explain basic networking concepts, understand switches and routers, comprehend OSI models, gain insight into wide area (WAN) and local area networks (LAN), master wireless networking strategies ,and develop IP addressing proficiency.
Become a Windows 10 expert with Microsoft 70-697 training. Learn how to configure Windows devices and become an IT Pro.
With more than a billion devices estimated by Microsoft to make use of this platform, having these certifications will give you an edge above other applicants and employers alike. our Microsoft 70-697: Configuring Windows Devices (Windows 10) online training course will get you prepared to pass the exam. 
Enhance your career with Cisco Voice 640-461 training course. Learn from experts at ITU Online and get prepared for CCNA Voice certification.
This Cisco Voice 640-461 course covers the Cisco Certified Network Associate Voice (CCNA Voice) attests to the fact that the IT professional has requisite associate-level knowledge and skills needed to manage a voice network.