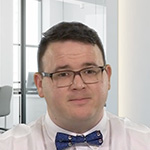 Robert Hale
IT Instructor
Robert is an Army Veteran who has been instructing in the IT training field for over a year. His experience with Microsoft spans over the past three years, but his decade of service in the military is where he gained his passion for and experience in the IT field. While he is knowledgeable in a variety of areas, Azure is Robert's specialty.
Learn how to deploy and manage Azure services with our online Azure Training course. Get hands-on experience and become a certified Azure professional.
Microsoft Azure is a cloud computing platform and infrastructure created by Microsoft for building, deploying, and managing applications and services through a global network of Microsoft-managed data centers. It provides a range of cloud services, including computing, storage, networking, analytics, machine learning, and internet of things (IoT), as well as many other services.
Start your journey into the cloud with our AZ-900 Azure Fundamentals online course and become a certified Azure professional.
Our AZ-900 Azure fundamentals certification course will teach you how to use Azure, Microsoft's Cloud solution. This introductory-level course prepares students for the AZ-900 certification exam and will go over exam objectives such as Cloud computing fundamentals, threats, compute, networking, Databases, Azure solutions, Administration, pricing and service level agreements, Azure Active Directory and more.