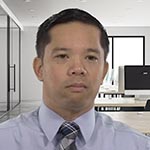 John Abueg
Senior Technical Instructor
John is a Senior Technical Instructor at Ft. Gordon in Augusta, Georgia, instructing U.S. military and civilian employees on a number of cybersecurity subjects and certifications. He has been an IT professional for well over two decades, as prior to his current job he retired from the Army after a 20-year career as a soldier in the signal branch (IT and communications). John holds a bachelor's degree in Computer Science from the University of Maryland Global Campus as well as the following IT certifications: Network+, Security+, Cybersecurity Analyst (CySA+), CompTIA Advanced Security Practitioner (CASP+), Certified Information Systems Security Professional (CISSP).
With the Master ITU CompTIA training series, become a Certified IT Professional. Get 12 Courses for One Low Price – Limited Time Offer!
Get all 12 CompTIA courses for one low price in this comprehensive training series. Our CompTIA certification training courses are comprehensive, providing IT professionals with 12 courses that feature the Core Series for A+ certification as well as introducing our innovative IT Fundamentals (ITF+) course! Furthermore, we have PenTest+, Security+, Cloud+ and Network+. For those seeking to become an expert in IT certifications – this is the training product for you!