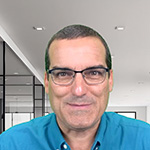 Anthony Sequeira
Cisco Certified Internetwork Expert (CCIE)
Anthony has been writing textbooks and teaching classes to students all over the world since 1996. Currently, he works as a freelance author and trainer and is certified in Cisco, Microsoft, CompTIA, AWS, and more. Anthony started his career in Information Technology in 1994 and has continued expanding his knowledge to this day. He takes great pride in being able to help so many achieve their certification and career goals.
Prepare for your Cisco CCNP certification with our 350-401 Implementing Cisco Enterprise Network Core Technologies course.
Master enterprise networking with the Cisco CCNP 350-401 (ENCOR) online course. Gain the skills and knowledge needed to excel in the CCNP certification exam. Learn network design, routing protocols, switching technologies, security, virtualization, and automation. Flexible and convenient online training with hands-on practice to enhance your career prospects in enterprise networking. Enroll now and become a certified expert in Cisco CCNP Enterprise.
CompTIA CSSS is the ideal certification for IT professionals with zero to two years of experience. Through this stackable credential, you can achieve specialized knowledge and proficiency by completing the CompTIA A+ and CompTIA Linux+ exams that are part of its Certification Path. 
Master IT operations and change management to become a CompTIA IT Operations Specialist (CIOS). Enroll in the online course and start your career journey today.
CompTIA CIOS is an invaluable stackable certification by CompTIA, specifically tailored for IT professionals with up to two years of experience. This remarkable path comprises learning materials that will help you pass the CompTIA A+ and Network+ exams—allowing you to make your mark as a certified professional in no time!