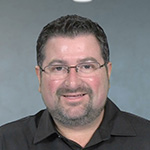 Anthony Santucci
Technology Professional and Instructor
Anton Santucci is a seasoned IT instructor with over 20 years of experience in the field. He is currently serving as an ITU instructor for the A+ Certification Course and teaching both online and in-person computer training at Hillsborough Community College (HCC) in Florida. Anton holds an Associate's Degree in Information Systems Management and is skilled in delivering complex IT information to students in a way that is easy to understand and enjoy.
He started his career as a Microsoft Certified Trainer (MCT) and has since gained expertise in CompTIA certifications such as A+, Net+, and Security+. He also holds the CEH (Certified Ethical Hacker) certification. With five years as a Network Administrator for a career college in Florida and global experience as a corporate trainer, Anton brings a wealth of knowledge and experience to his classes.
With a belief that training can be both informative and entertaining, Anton uses humor, mnemonic devices, and questions to engage his students and ensure they retain the skills they need to succeed in the workplace. In his personal life, Anton is a passionate traveler and a fan of the Giants. He looks forward to helping you achieve your certification goals while getting to know you along the way.
Become a Certified IT Professional with Our Master CompTIA Certification Training. Get 12 Courses for One Low Price – Limited Time Offer!
Our CompTIA certification training courses are comprehensive, providing IT professionals with 12 courses that feature the Core Series for A+ certification as well as introducing our innovative IT Fundamentals (ITF+) course! Furthermore, we have PenTest+, Security+, Cloud+ and Network+. For those seeking to become an expert in IT certifications – this is the training product for you!