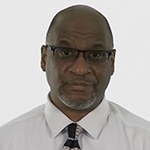 Roger St Hilaire
CISM, CGEIT, CRISC, TOGAF, Certified Trainer and Governance Specialist
Roger is an experienced IT professional with a proven track record of designing and managing large-scale technology systems. Successfully designed the first knowledge engine for UNDP Sub-Regional Resource Facility, known as the Request Tracker, which facilitated workflow-based tracking of queries and increased productivity. Managed and grew a $70 million USD dual data centre national network system for the Trinidad and Tobago government, expanding it from 400+ sites to 512 and increasing customer satisfaction. Skilled in vendor negotiations, securing approximately $200K USD in committed support during a crisis event. Adept in saving clients money and improving their operations, saving one BPR client $60K USD and improving their security processes. Committed to driving positive change and delivering results in fast-paced and dynamic environments.
Showing the single result
Boost your cybersecurity skills and career prospects with our CISM Training – Certified Information Systems Manager program. Enroll now!
The CISM training course is designed to provide on-the-job skills, as well as knowledge to pass the Certified Information System Manager (CISM) certification exam. This cybersecurity training focuses on more advanced topics and should be completed after various certifications in Cisco and Microsoft have been earned, such as PenTest+ or CySA+.