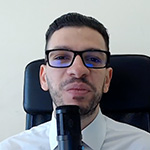 Nadar Abdulghany
AWS Instructor | CCSI Instructor | NetApp Instructor
Nader is a solutions architect, consultant, and instructor. He specializes in cloud computing and automation (SDA, ACI, SD-WAN, Cisco Meraki, Cisco Viptela), collaboration, telepresence, video conferencing, data center solutions, service provider technologies, routing and switching, system programming, DEVNET, and storage solutions. Training topics he covers include AWS, CCSI, and NetApp. Nader is passionate about learning new solutions. This passion carried him through his education and work experience. It remains with him and there is certainly yet more to learn, yet more problems to solve, and yet more to build.
Showing the single result
Learn AWS with our online course designed for beginners. Start your cloud journey and become an AWS Certified Solutions Architect!
More your career into the future with our AWS courses. Amazon Web Services (AWS) is one of the most widely used cloud platforms in today's tech industry. Start learning today with this two course training series designed to get you up in running.