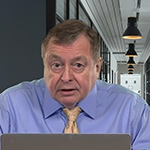 Alan Grayson
Instructor
Alan Grayson has been teaching bootcamps for 20 years and has a 905 average pass rate from those students he has taught. Alan has attended The USAF Academy, University of Southern California, and has certifications in CompTIA CTT+, CASP+, CySA+, PenTest+, Security+, Network+, A+ as well as Cloud+. Alan also holds the CISSP Certification and is an official ISC2 Instructor for CISSP, SSCP, CSSLP, and CCSP.
Become a Certified Cloud Security Professional (CCSP) and master cloud security with ITU Online Training. Enroll now to prepare for the CCSP exam.
After finishing this Certified Cloud Security Professional (CCSP) training course course, you will be able to design and secure data, applications, and infrastructure in the cloud using advanced technical skills and knowledge.
Elevate Your Career with Certified Information Systems Security Professional (CISSP) Online Training
CISSP is the perfect credential for those with advanced technical and managerial skills, experience, and credibility to design, implement, and manage an information security program that can protect organizations from sophisticated attacks.