Drive your team to success with the most cost-effective and robust IT team training available.
The ITU Online TeamTech Training options provide companies a robust training library covering Cybersecurity, Cisco, Microsoft, CompTIA, Project Management, and more! These courses are all-inclusive in every plan we offer. Whether your company is big or small, we have options that will fit your needs.
Over 2,400 Hours of Training
225+ Courses
Over 19K Practice Questions
Workbooks, Games and Flashcards
On-demand Instructor Lead Courses
Complete Progress Tracking and Employee Visibility
Why Train Your Employees?
According to LinkedIn, 94% of employees would stay at a company if they would just invest in helping them learn.
The average cost to replace an employee is 33% of the position's annual salary according to a survey by Employee Benefit News.
Employee Learning Made Easy!
The ITU Learning Management System is a proprietary online application designed by ITU from the bottom up.  This system makes learning easy and fun by offering:
A primary dashboard showing students which courses are in progress for easy quick access.
Progress tracking within each course showing completed course content.
Detailed tracking of course activity that logs viewing actions like start time, stop time, pause, rewind, and fast forward activity.
Easy module-level course navigation.
Easily add notes to any course when training.
Downloadable course outlines and workbooks
Flashcards, games, and more.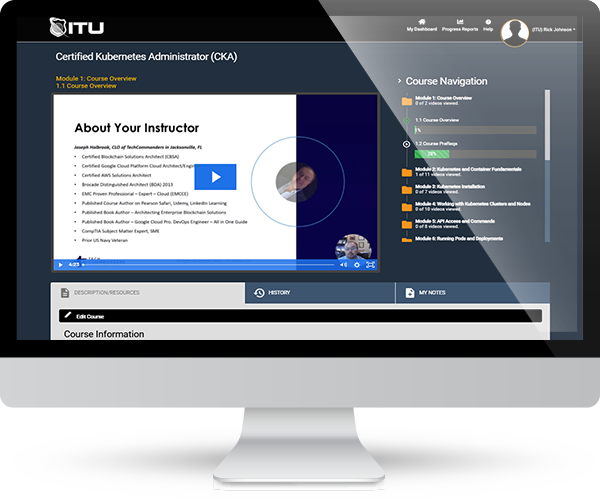 An Extensive Library Covering Today's Technology
The ITU Online Training Library covers an extensive array of training designed to meet a comprehensive array of IT technology used in every industry.  Our system allows your employees to hyper-focus on specific technologies or the opportunity to round out their technical skills in many areas.

Easy & Predictable Pricing
1 Year Access
Lifetime Access
Single User
$199
$699
2 - 5 Users
$189 / user
$399 / user
6 - 10 Users
$179 / user
$379 / user
11 - 15 Users
$169 / user
$333 / user
16 - 20 Users
$159 / user
$299 / user
Over 20 Users
Call for pricing
Call for pricing
What You Will Receive
With our 1 year subscription you will receive access to all of our courses, practice quizzes and course workbooks. This subscription expires after one year.

With our Lifetime library, you will receive access to all of our courses, including future releases, workbooks and practice quizzes. This library has no expiration date.

To get started call us today or email your purchase order to accounting@ituonline.com
1-year team training price options
Single User
$199
2 - 5 Users
$189 / user
6 - 10 Users
$179 / user
11- 15 Users
$169 / user
16 - 20 Users
$159 / user
Over 20 Users
Call for pricing
With our 1 year subscription you will receive access to all of our courses, practice quizzes and course workbooks. This subscription expires after one year.

To get started call us today or email your purchase order to accounting@ituonline.com
LIFETIME team training price options
Single User
$699
2 - 5 Users
$399 / user
6 - 10 Users
$379 / user
11 - 15 Users
$333 / user
16 - 20 Users
$299 / user
Over 20 Users
Call for pricing
With our Lifetime library, you will receive access to all of our courses, including future releases, workbooks and practice quizzes. This library has no expiration date.

To get started call us today or email your purchase order to accounting@ituonline.com