Online Cybersecurity Training Series
Need to prep for certifications in the IT security career field? The ITU Online Cybersecurity Training Series provides the most comprehensive track of courses for those seeking IT jobs, or those who want career advancement.
Information Security is one of the fastest-growing IT fields, covering the skills of data forensics, ethical hacking, penetration testing, and more. Not only will students get over 240 hours of on-demand training content, but each course comes with a practice exam and progress tracker. 
Start your journey in cybersecurity today and join thousands of other students learning from this exceptional training series.
$1,188 when courses purchased separately
This Cybersecurity Training Series Contains the Following Courses:
Why Online Cybersecurity Training?
Cybersecurity is a growing career field, with various positions projected to grow up to 31.2% steadily until 2029,
according to the US Bureau of Labor Statistics
. Working in cybersecurity IE information security is commonly a mid-career distinction, so certification training for specific jobs and functions in this field is necessary in order to be hired. For example, CompTIA A+ is a great foundational certification for those seeking entry-level IT jobs. With this in mind, the Security+ certification is usually a minimum requirement just to obtain an InfoSec job interview. This Online Cybersecurity Training Series is available 24/7 and is recommended to students who have finished IT Fundamentals, CompTIA A+ and Network+, and have basic IT experience on their resume. Start with Cybersecurity Awareness & Prevention, move on to Data Security Compliance, then Security+. After this, learn about Linux, then Cloud-oriented courses before moving forward with ethical hacking, data forensics, and other concentrations. Employers – ask about our Team Solutions so you can give your employees crucial cybersecurity training to protect your company's data!
Ready To Start?
Get this great deal today! Click below to buy the complete training series.
ADDITIONAL POPULAR TRAINING SERIES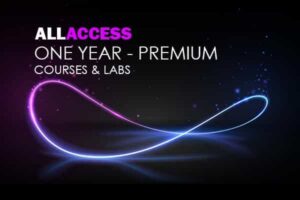 1 Year of Unlimited Online Access to ITU Online Training Videos & IT Certification Training! During your access period, you will receive access to every
Read More »